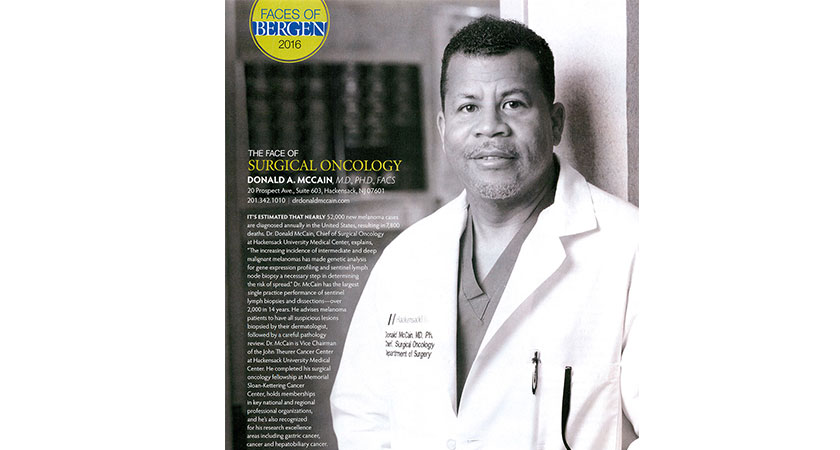 THE FACE OF SURGICAL ONCOLOGY DONALD A. MCCAIN, M.D., PH.D , FACS
Address: 20 Prospect Ave., Suite 603, Hackensack, NJ 07601
Number: 201-342-1010
Website: drdonaIdmccain.com
IT'S ESTIMATED THAT NEARLY 52,000 new melanoma cases are diagnosed annually in the United States, resulting in 7800 deaths. Dr. Donald McCain, Chief of Surgical Oncology at Hackensack University Medical Center, explains, "The increasing incidence of intermediate and deep malignant melanomas has made genetic analysis for gene expression profiling and sentinel lymph node biopsy a necessary step in determining the risk of spread" Dr. McCain has the largest single practice performance of sentinel lymph biopsies and dissections—over 2,000 in 14 years. He advises melanoma patients to have all suspicious lesions biopsied by their dermatologist, followed by a careful pathology review.
Dr. McCain is Vice Chairman of the John Theurer Cancer Center at Hackensack University Medical Center.
He completed his surgical oncology fellowship at Memorial Sloan-Kettering Cancer Center, holds memberships in key national and regional professional organizations, and he's also recognized for his research excellence areas including gastric cancer, cancer and hepatobiliary cancer.