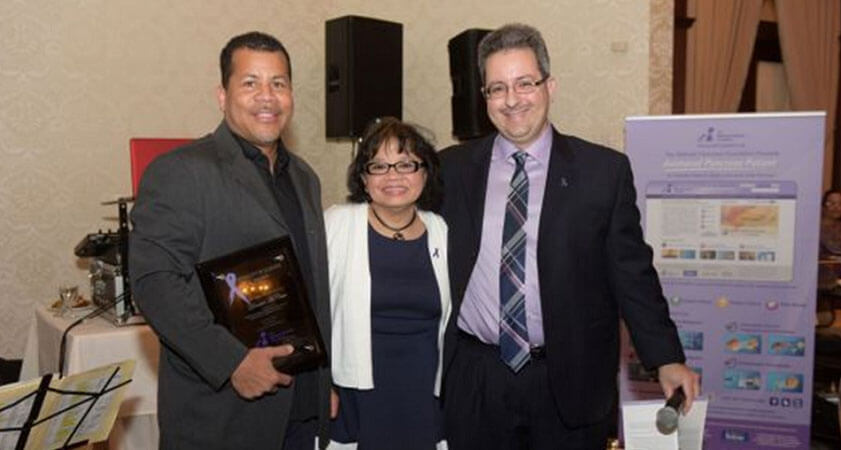 Dr. Donald McCain, co-director, Pancreas Center at Hackensack University Medical Center and Vice Chairman of the John Theurer Cancer Center has been chosen to receive the Nobility in Science Award from the National Pancreas Foundation. This award is given to a physician who has shown compassion, dedication, innovation and leadership in the care and treatment of patients with pancreatic cancer.
A board-certified surgical oncologist, Dr. McCain is also chief of surgical oncology and co-chief of gastrointestinal oncology at the John Theurer Cancer Center and specializes in pancreas, melanoma, gastric cancer, colorectal cancer, hepatobiliary cancer, sarcomas and micromatasteses.
"I applaud the National Pancreas Foundation for recognizing Dr. McCain. He shows deep compassion for his patients and is dedicated to providing the best care and treatment," said Martin Karpeh Jr., M.D., chairman, Department of Surgery, Hackensack UMC.
Dr. McCain holds an academic appointment at Rutgers, New Jersey Medical School. Prior to joining Hackensack UMC, he completed his surgical oncology fellowship at Memorial Sloan-Kettering Cancer Center in New York City. He holds memberships in several key national and regional professional organizations. He has published his work extensively and has been recognized throughout his career for research excellence.
The Nobility in Science Award was presented to Dr. McCain at the New Jersey's Party for a Cure 2016 event with the National Pancreas Foundation New Jersey Chapter on May 15, 2016 at Macaluso's in Hawthorne, NJ.